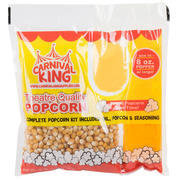 Popcorn - 8oz. Single Paks
Carnival King Pop kit for the 8 oz. popcorn machine. 10.75 oz. packet that delivers perfect popcorn, made with coconut oil and salt. One pack makes approximatly 8 servings. Popcorn bags sold separately.
Note: Price listed is Pick-Up Price, unless bundled with an inflatable or for a small delivery fee.