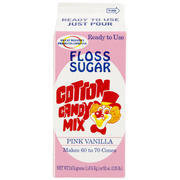 Cotton Candy Floss - Pink Vanilla
INCLUDES MIX & CONES
Need additional servings? 1/2 gallon carton of pink vanilla cotton candy sugar floss mix plus 50 cones. One carton makes approximately 60-70 cones.
Note: Price listed is Pick-Up Price, unless bundled with an inflatable or for a small delivery fee.