CARNIVAL GAME SPECIAL - 4 FOR $250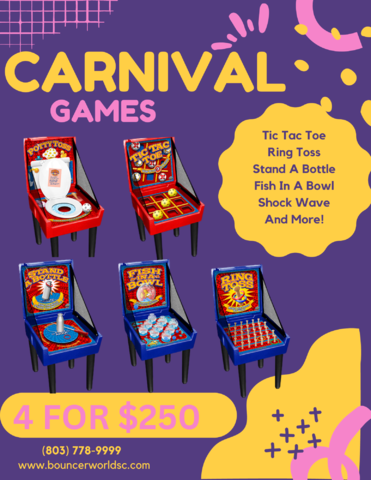 *Price may vary for Schools & Large Events*
Recommended Age: 3+
Loyalty Points: 250
Description
Carnival Games
Welcome to the thrilling world of Carnival Games! Our collection of fun-filled games is sure to bring excitement and entertainment to any event or party.
Step right up and test your skills with our wide variety of classic carnival games. From ring toss and can smash to stand a bottle, there is something for everyone to enjoy.
Our games are designed to challenge your accuracy, hand-eye coordination, and strategic thinking, ensuring hours of non-stop amusement.
Whether you're hosting a birthday party, corporate event, or school carnival, our Carnival Games are the perfect addition to make your gathering unforgettable. Children and adults alike will be captivated by the colorful setups, whimsical designs, and the thrill of trying to beat their own high scores. Not only are our Carnival Games incredibly fun, but they also promote friendly competition and foster a sense of camaraderie among participants. They are a fantastic way to bring people together and create lasting memories.
So why wait? Bring the excitement of the carnival to your next event with our thrilling Carnival Games. Get ready to unleash your inner child and create an unforgettable experience for all!